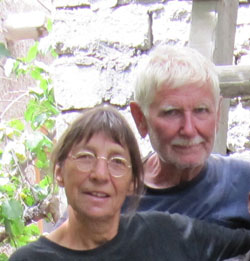 We are a couple of 62 and 68 and rather fit. We met Stanzin as a guide of a Djoser-trekking tour in 2008. As we liked him and were so pleased at his competence we asked him to be our private guide in 2009.
So we were back in Ladakh this year. Meanwhile Stanzin had his own travel agency with Siddarth: two active, interested, friendly and helpful young men. They organized two long, unforgettable trekking tours and two jeep tours to Nubra Valley and Tsomiriri. Every day really was a special event and individually planned for us. They took us to beautiful mountain ranges - 4000m – 5600m altitude - with breathtaking sights, over passes and always found a wonderful campsite. Whenever the height was a problem or we had new ideas concerning our trip they were flexible and found something special for us.
We were accompanied by the guide, a horseman and a helper and 5 horses that carried the entire luggage, the camping equipment, the food, barley for the animal. The kitchen tent was a snug place for all of us when it was cold or windy as well as the sleeping tent for the crew.
Our guides were hobby cooks. With their own recipes they supported our friendly and engaged cook (a Tibetan refugee). That way the Ladakhi/ Tibetan/Indian meals were better than those of a 4-star- restaurant. Of course there was "butter tea", soup, fresh vegetarian dishes with rice and bread, fruits and dessert and very special snacks in the afternoon, sometimes even homemade cake.
Stanzin and Siddarth had both spent about 15 years of their childhood in monasteries. So English is their second mother tongue and they are very well educated. They could tell us not only lots of details about Buddhism, religion and art, but explain us the flowers, animals and geology. They know the history and could answer questions to politics and environment problems.
On our trips we met nomades and native people in remote villages. We learned about their way of living. We slept in a private house and enjoyed traditional, freshly prepared, delicious dishes. We always felt heartily welcomed by these friendly Ladakhis.
Although we developed a wonderful relation to Stanzin and Siddarth a certain private sphere was given to us by these sensible young men. In the end we were invited for dinner at Stanzin's house. We could help his mother to prepare the delicious momos. And there was our favourite pudding for dessert too!
Now we dream of our next tour with our friends, maybe in 2010.
Thanks a lot, Stanzin and Siddarth!
Same as above but in German:
Wir sind ein Ehepaar von 62 und 68 Jahren und ziemlich fit . Wir lernten Stanzin letzten Sommer 2008 auf einer Trekkingtour in Ladakh als Guide in einer Djoser-Gruppe kennen . Wir waren von Stanzins sympathischen Art und Kompetenz so eingenommen, dass wir ihn ansprachen, uns im folgenden Jahr individuell privat zu führen . Diesen Sommer also waren wir wieder in Ladakh . Stanzin hatte sich inzwischen mit Siddharth als eigene Agentur selbständig gemacht; zwei dynamische, freundliche, hilfsbereite und engagierte junge Ladakhi . Beide planten für uns mehrtägigen Trekkingtouren und führten uns .
Unterwegs war jeder Tag mit ihnen ein besonderes Erlebnis . Die beiden großen unvergesslichen Trekkingtouren, wie auch die beiden mehrtägigen Jeeptouren ins Nubravalley und zum Tsomoririsee waren präzise vorbereitet und ganz individuell auf uns abgestimmt . Sie hatten für uns zwei atemberaubende Trekkingtouren in der Höhenlandschaft in 4000 bis 5600 m Höhe ( Passüberquerungen bis 5600 m ) und wunderschöne Lagerplätze ausgesucht . Sie zeigten sich immer flexibel, wenn allzu hohe Anforderung von uns nicht zu bewältigen oder neue Wünsche offen waren . In unserem Trekkingtross dabei waren der Guide, der Horsemann und ein Helfer, sowie 5 Pferde, die umfangreiche Gepäcklasten zu tragen hatten, einschließlich Verpflegung, Reisegepäck, Schlafsäcke, Brennstoff, Hafer für die Pferde, Zelt und Küchenzelt etc. Das Küchenzelt war zugleich Treffpunkt bei Kälte, Wind und Regen, sowie Schlafraum für die Crew . Mit ihren hervorragenden Kochkenntnissen der einheimischen Küche unterstützten sie unseren Koch, der auch der Horseman ( ein tibetanischer Refugee ) war, sodass unser Speiseplan origineller und besser als in jedem 4-Sterne-Restaurant war . Es gab natürlich Buttertee, vegetarische Küche mit frischem Gemüse, Reis, Obst, Dessert und nachmittags phantasiereiche Snacks, gelegentlich sogar frisch gebackenen Kuchen . Auf Grund der ausgezeichneten Bildung konnten uns Stanzin und Siddhart beim Besuch der Klöster in fließendem Englisch detailliert über Buddhismus und die buddhistische Kunst informieren; beide waren schon als 3-jährige Novizen in ein Kloster gegeben worden, dort streng erzogen und dann nach 15 Jahren ausgetreten . Jedoch nicht nur zur Religion, sie hatten auch zur Tier- und Pflanzenwelt, zu Umweltfragen, Geologie, Geschichte, zur Politik und zum aktuellen Zeitgeschehen ein fundiertes Wissen und konnten uns umfassend Auskunft geben . Wir begegneten Nomaden und einheimischen Bewohner im Hochgebirge und lernten viel über ihr Leben . Wir schliefen auch privat im Haus einer Ladakhi-Familie und wurden freundlich mit den traditionellen Gerichten bewirtet . Bei all ihrem dynamischen Engagement und unserem geradezu freundschaftlichen Kontakt blieb durch ihre feinfühlige Art stets auch unsere private Sphäre erhalten . Das gemeinsame Abschiedsessen fand im traditionellen Haus in Leh bei Stanzins Mutter statt, ein ganz besonderer Vertrauenserweis, bei dem wir bei der Zubereitung der geliebten Momos mithelfen konnten; uns zu Ehren gab es als Nachspeise sogar Pudding . Wir träumen bereits von unserer nächste Trekkingtour vielleicht 2010 mit unseren Freunden Stanzin und Siddarth . Dann allerdings mit Tagespausen zwischen den anstrengendsten Touren .
Tashi delek Euch beiden !
... Petra & Klaus (Germany)
"Julley!! First of all, Ladakh is an amazing place, a real heaven on earth! A must go for every Indian especially who run to places like Switzerland and all. We have Ladakh in India and it's worth boasting about.
Ladakh calling(LC) arranged our trip to Pangong tso, Rafting in river Zansakr near Nimmo and last but not the least Stok-Kangri expedition. If you guys are looking for adventure then i would suggest stok kangri expedition. LC planned it beautifully, and i must say i never missed home in these 4 days of trek n expedition be it food or company of the crew. It is my most unforgettable tour. Thukche chhu (Thank You)!!"
... Karan Sharma – India (jalandhar)


Hello Tundup,

We're back to S'pore sound and safe. We remember the landscape of Ladakh and it is not possible to forget it. I am very happy with my holidays and Ladakh Calling for making it.
... Yen Pyng Foo. Singapore